(Courtesy of Wikipedia)
Hello Again Everyone!!
Introduction to the Temple:
Guinsa Temple ("Salvation and Kindness Temple") is beautifully located on Mt. Sobaeksan. Unlike most other temples in Korea, Guinsa Temple only dates back to 1945, when the Cheontae Order was re-established by the Grand Patriarch Sangwol-wongak. Originally, Guinsa Temple was nothing more than a thatched hut. After a time, Sangwol-wongak achieved enlightenment, and his followers have continued to grow to this day. Guinsa Temple is the headquarters to the Cheontae Order, which administers over 140 temples and 2 million practitioners. As for the temple itself, it's on the rather large and ornate side of things. From the smallest of buildings, to the largest, this temple is pretty awe-inspiring.
The Temple Stay Program at Guinsa Temple runs regularly throughout the year. At Guinsa Temple, you can enjoy a lot of interaction with the monks, as well as time to yourself. Additionally, you can enjoy making lotus lanterns or a Nirvana walk. This program has a fair bit to offer a visitor to the temple.
For more information on Guinsa Temple.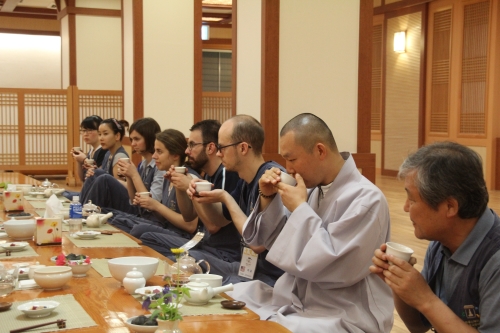 (Courtesy of the Korean Temple Stay website)
Directions:
A: Seoul 
1. Yeongdong Highway (South Wonju) -> Manjong Fork Point -> Central Highway (Daegu Direction)
① -> West Jecheon IC -> Yeongwol (No.38 Road) Direction -> Changwon-ri -> Guinsa Temple
② -> North Danyang IC -> Maepo, Danyang -> Guinsa Temple
2. Bus departs from Dong (East) Seoul Bus Terminal 12 times a day every hour.
B: Busan
Central Highway -> Danyang IC -> Through Danyang City -> Guinsa Temple
General Schedule:
Day 1:
~13:00 Arrival
13:00~13:30: Check-In
13:30~14:00: Orientation
14:00~15:30: Temple Tour
15:30~17:30: Making a Lotus Lantern and Experience Training
18:00~18:30: Evening Ceremony
18:30~19:20: Dinner
19:30~20:30: Free Time
20:30~03:00: Bedtime
Day 2:
03:00~03:15: Wake Up
03:30~04:30: Early Morning Ceremony
04:30~06:30: Free Time
06:50~07:20: Breakfast
07:30~09:00: Walking Meditation (Nirvana Tomb)
09:00~10:30: Conversation over Tea with Monks
10:30~11:00: Survey
11:00~11:30 Room cleaning
12:00~ Ending
*Schedule is subject to change.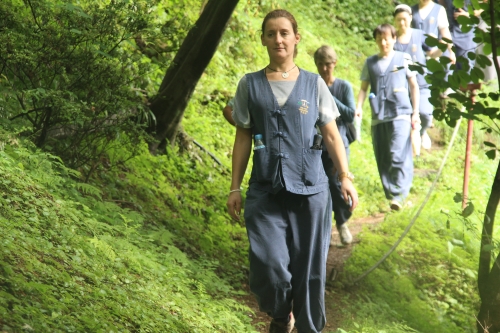 (Courtesy of the Korean Temple Stay website)
Guinsa Temple Information:
Address : 73 Guinsagil Yeongchun-myeon Danyang-gun Chungcheongbuk-do
Tel : +82-43-420-7493 / Fax : +82-43-420-7399
homepage : http://temple.cheontae.org/
E-mail : guinsa@templestay.com
Fees:
Adults: 40,000 won; Teens: 20,000 won; Under 13: 20,000 won
Link:
Reservations for the Guinsa Temple Stay program.
(Courtesy of Wikipedia)