The library that houses the over 80,000 wooden tablets that make up the Tripitaka Koreana at Haeinsa Temple.
Hello Again Everyone!!
Introduction to the Temple:
Haeinsa Temple (Reflection of the Sea Temple) is beautifully situated in Gayasan National Park. It was first founded in 802 A.D. by Ven. Suneung and Ven. Ijeong, who were carrying on the teachings of Ven. Uisang (625-702 A.D.). Alongside Tongdosa Temple and Songgwangsa Temple, Haeinsa Temple is one of the three treasure temples in Korea. Additionally, it is recognized as a UNESCO World Heritage site for  the famous wood printing blocks known as the "Tripitaka Koreana." The 80,000 plus blocks are the main highlight to this temple; however, they're not the only highlight to the well populated temple grounds that house numerous temple buildings.
The Temple Stay program at Haeinsa Temple is called "Live like the Wind and Water, then Leave Your Body!" The program features formal monastic meals, Seon meditation, and hikes that tour the neighbouring mountain hermitages, which are amongst some of the most beautiful in all of Korea.
For more information on Haeinsa Temple, follow this link.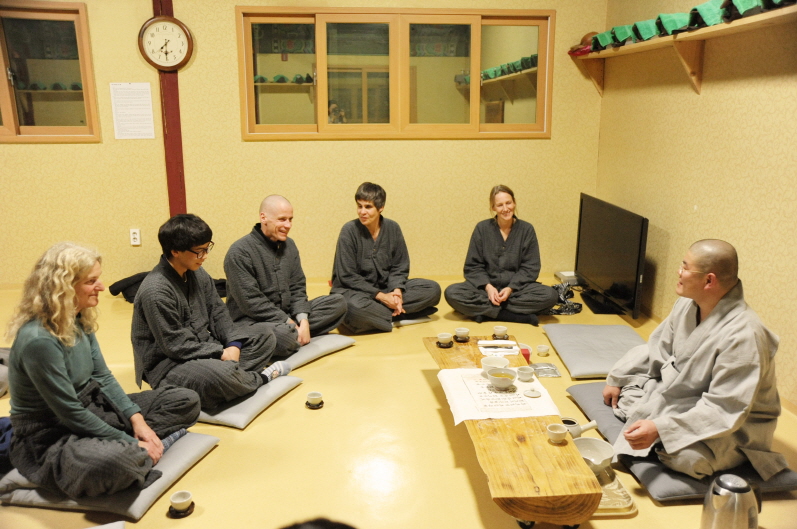 (Courtesy of the Korean Temple Stay website)
Directions:
To get to Haeinsa Temple from Busan, you'll first have to take the subway to Sasang Subway Station (#227) on the second line. From there, you'll find the Seobu Intercity Bus Terminal. Inside, you'll need to order a ticket to Hapcheon. Once you're in Hapcheon, you can get a bus to Haeinsa Temple for about 4,000 won.
And from Seoul, if you want to take a bus, you'll need to take subway lines No. 3, No. 7, or No. 9 to the Seoul Express Bus Terminal, and get a bus for Daegu (3 hours 30 minutes). After you arrive in Daegu, take subway line No. 1 from the Dongdaegu Station (next door) in the direction of Daegok, as far as Seongdangmot (about 20 minutes). Then take a bus from the Seobu Intercity Bus Terminal, located at this stop, to Haeinsa (about 1 hour, 40 minutes).
If you'd rather take the train from Seoul, you should take subway lines No. 1 or No. 4 to Seoul Station, and get a KTX Express Train to Dongdaegu Station. After you arrive in Dongdaegu, you can take subway line No. 1 to Seongdangmot, and then the bus to Haeinsa, as described above.
General Schedule:
Day 1:
15:30~16:20 : Registration
16:20~17:40 : Learning Temple Manners
18:10~18:40 : Temple Dinner
18:40~19:10 : Evening Service
19:10~20:30 : Tea Time with a Monk
20:30~21:00 : Ready for Sleep
21:00 ~ : Sleep
Day 2:
03:00~03:20 : Wake Up & Wash
03:20~04:00 : Dawn Service
04:00~06:10 : 108 Prostraions & Seon (Zen) Practice
06:10~07:20 : Temple Breakfast, Communal Work
07:20~09:00 : Temple Tour of Haeinsa or Hermitage Visits
09:00~10:00 : Closing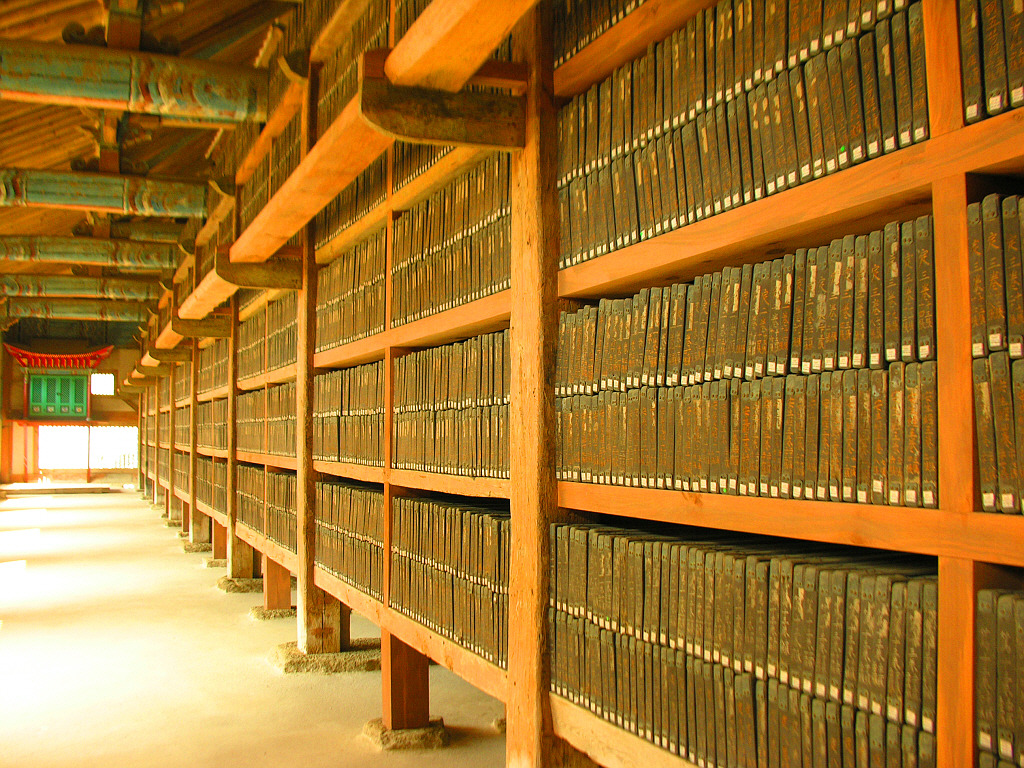 (Courtesy of the Korean Temple Stay website)
Haeinsa Temple Information:
Address : 10, Chiin-ri, Gaya-myeon Hapcheon-gun Gyeongsangnam-do
Tel : +82-55-934-3110 / Fax : +82-55-934-3010
homepage : http://www.haeinsa.or.kr
E-mail : haeinsa2@templestay.com
Fees:
Adults: 60,000 won; Teens: 60,000 won; Under 13: 50,000 won
Link:
To make a reservation for the Haeinsa Temple Stay, follow this link.
Just some of the 80,000 wooden blocks that make up the Triptaka Koreana.